Dome House Plans: Enjoyable Dome Living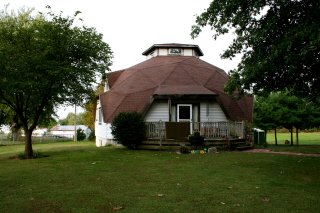 Dome house plans may be called many names, including dome home plans, geodesic dome home plans, and dome home floor plans. No matter what name is used; these homes are quite unusual.
Photo courtesy of .A.A.'s Photostream
With a little research you will discover that these houses can be very energy efficient, extremely strong, and require very little maintenance on the outside, unlike the typical home you can buy.
The rounded dome shape gives these homes a unique shape and appeal that is not found every day. These houses can be found in almost every state of America, and are used for primary and secondary residences all across the country.
A dome home is built in a sphere shape, and this structure has many advantages. A sphere is stronger than the traditional box shape, and it can enclose more living space with the same amount of materials. Often, geodesic dome home plans have as much as a twenty five or more percent increase in living space.
You will also see more freedom in interior design, because a dome house does not limit where you can place any walls that you want included. Sphere homes and building have been used for around one hundred years, and the popularity of these homes is still going strong.
Dome Home Plans and Their History
Dome houses and structures first became popular in the early nineteen hundreds, but the dome has been used in architecture for thousands of years. Domes have many advantages, and one of these is that this type of structure is very weather resistant.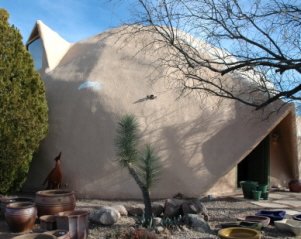 Winds and severe weather will not damage a dome house the way it will a conventional home, and this is one of the main reasons these structures are usually preferred. Even though these home styles are very effective, efficient, eco-friendly, and offer better protection, they are often overlooked and ignored in favor of more conventional homes and buildings instead.
Many architects believe that dome houses may be the key to a better home, and that the ancient structures utilizing domes that still stand today are proof of the durability of these homes. Geodesic dome home plans have been shown to stand up to even the strongest hurricanes and tornadoes, and even earthquakes cannot damage these homes the way they do conventional buildings.
Another reason that this type of residence is so popular is that it's very energy efficient, and can also be very eco-friendly as well.
Dome Home Floor Plans and the Usual Owners
If you are looking at dome houses and thinking about buying one, you may be one of a minority of Americans but you are not alone. You may want this home type because it offers excellent protection against weather and natural disasters, or you may want to get lower utility bills.
Another benefit that may appeal to you is more living space because of the structure design, and you can find or plan a dome home of almost any size, from large to very small. This means dome homes may be an ideal choice no matter what size your family, or whether it's just you.
If you want to lessen your impact on the environment you may choose to buy or build a dome house because of the environmental benefits and lower waste percentages that these homes offer. You can choose this design no matter where you live, and your home can stand up to extreme heat and cold while staying comfortable.
The strength of the dome structure is designed for even the heaviest snowfall and weight, so even far northern climates and locations are not a problem. You could also choose this style of home because of the unusual look and appeal it offers, and you know that there are not many other people with a similar house to yours!
Key Elements
Positive Features of Dome House Plans
A round spherical shape
The exterior of the home is incredibly strong
Can stand up to extreme winds
Very energy efficient
Eco-friendly
Less waste during the building process
Earthquake resistant
Hurricane and tornado resistant
More living space is included for the same amount of materials
Weight is evenly distributed across the entire structure
Can withstand heavy snowfall and weights
Vaulted ceilings
Terrific air circulation
Interior design freedom
Wall placement flexibility
Excellent heat recovery
Can be designed for any size family
Negative Features of Dome House Plans
Finding a builder to build this home style may require some time and effort, because there are not a large number in any one area
You Might Also Like: