One Story Home Plans
One story home plans offer a lot of benefits for individuals and families. These plans come in a wide range of sizes, styles, and prices. Although these homes may be called ranch homes, this is only one of the many styles available that feature a single story. These designs are usually low slung and hug closely to the ground, and can offer many different looks and architectural features.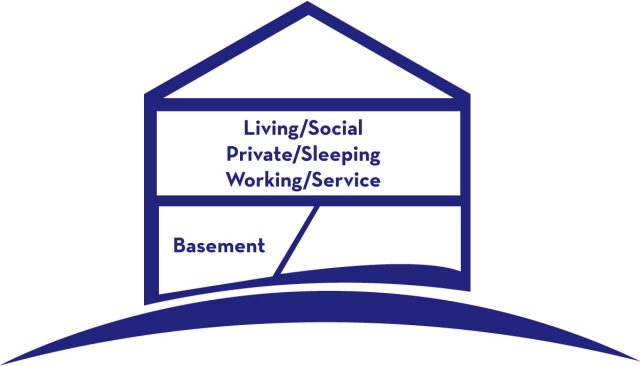 Plans and designs can range from small one or two bedroom cottages up to four or five bedroom homes which are large and sprawling, and these homes can accommodate almost any size family without a problem.
If you prefer one story house plans you're not alone, and these designs are extremely popular all across the country. These plans offer features which make them ideal for almost all circumstances and living situations. No matter which architectural features and look you want in your home it can normally be found in plans which feature a single level.
It is possible to see many different styles of this home type all across the country, from the east coast to the west and across both the northern and southern areas of the USA. This plan design is convenient and may offer energy saving benefits in many cases.
Typical Buyers and Owners of One Story Home Plans
The typical owner of a single story house varies. You may want this type of floor plan so that you do not have any stairs, which can be important if you are elderly or physically challenged in any other way. Some younger couples prefer these designs so that it is not necessary to move later in life.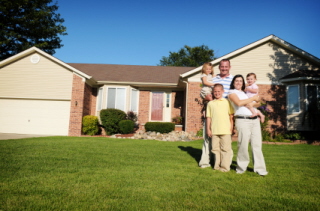 Individuals and couples who plan on staring a family in the future may prefer a single story home without stairs, to prevent any childhood accidents. You may prefer to buy this type of home because it is often easier and less expensive to heat and cool, and to protect against the elements.
Usually one story home plans are situated on large lots, where land size is not restricted. Since these homes do not have additional floors you may not be able to expand in some areas and this is a problem if you will need more room in the future.
In many home designs an additional floor can be added for extra space, but with a single story home this defeats the purpose and is not normally an option. If you may need more room later on then you will want to take this into consideration when you make the home or land purchase.
The Popularity of One Story Home Plans
One story house plans are one of the most popular types of home plans, if not the most popular, out of all the plans available. These homes and home plans have a lot to offer, and are a perfect fit with many people and families. Elderly individuals and families with older members definitely enjoy the convenience and increased safety that a home without stairs offers.
This is true for those who are disabled as well. There may be less maintenance involved; because there is only a single story involved, and this can also help keep any building costs down as well.
One of the biggest reasons that the housing trends show one story home plans being the most popular design today is that there is an aging population in the United States, and these baby boomers are looking for a home suited to their physical limitations of growing older. These homes offer simplicity, and a floor plan that is usually very easy to navigate.
A lack of stairs makes these plans appealing to anyone who does not want to have to make repeated trips up and down each day. In most of the one story designs the bedrooms are all situated at one end of the home, and this may be attractive to anyone who has children.
One Story Home Plans and The Many Styles Available
There are many different styles to choose from concerning one story home plans. One of the most well known styles with this home design is the Ranch style, but there are also a lot more that you can evaluate. Small cozy cottages feature a single story floor plan, and so do some large and sprawling homes on vast estates.
The Ranch style offers a floor plan that has an L shape, but others may feature a shape which is rectangular, square, or another type. Most of these homes feature vaulted ceilings, and may offer a lower sub level in some circumstances. Cape Cod is another style of home that may be a one story residence.
There are so many styles to choose from that you may have difficulty finding one you like the most. You can include architectural features and decorative details which can help your home really stand out. Mediterranean villa styles also usually feature a single story, and so do Rambler homes.
No matter what look or design feel you want or love, you will normally be able to find it in one story house plans. There are styles which work well with single individuals, couples, and families with children, making this design type extremely versatile and perfect for almost any buyer.
The many styles and high popularity of one story home plans includes another benefit as well. If you ever need or want to sell your home and move it will be easier to do so. This type of home does not spend as much time on the market as many other home types do, because it is in such high demand and is so popular with a majority of home buyers.
Different areas of the country may have a higher percentage of homes featuring a certain style of single story house, but you can find these designs all over the country and in almost all cities. There are styles suited to almost any climate, weather conditions, and sizes.
Simplicity Makes One Story Home Plans Ideal for Many
One of the biggest attractions with one story house plans is that these homes offer a simplicity that others do not. Usually there are not a lot of decorations and decorative detail with these homes, which can eliminate the required upkeep and maintenance costs that these details may involve.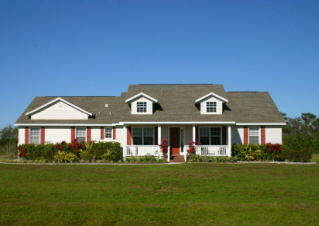 The layout of the floor plan is also usually very simple, with the bedrooms arranged in one part of the home and the common and living areas arranged at the other end. There are no additional floors to worry about, and no stairs to navigate and risk falling down. The exterior of these designs are usually attractive and yet simple.
If you have a single story and a simplistic floor plan your home will be easy to navigate and to secure. Many of the styles typical of a single story home do include decorative shutters, to brighten up the look of the home, but there are no ornate decorations or elaborate architectural details like some designs including Victorian homes have.
Physical disabilities are not an issue and will not restrict your navigation around the home the way multiple story houses can, and that is why elderly individuals prefer these home types.
Geographic Considerations
There are some geographical considerations with one story home plans, because certain styles are more prevalent in certain areas of the country. One of the places where these homes are immensely popular, and where they make up a majority of the home types in the area, is in the Midwest.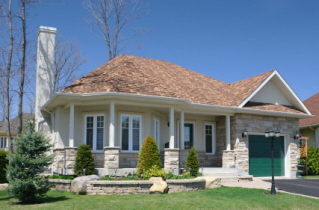 The simple design and openness of the interior, appeal to the no frills and common sense attitudes which are traits of many of the people from this area of the country.
The low maintenance and large windows are also features which make this type of home popular in the area. Often these homes also have an attached garage, and may include sliding glass doors. The Ranch style can be seen in almost every neighborhood in the Midwest, and this style is one of the most common in this part of the United States.
One story Cape Code homes and cottage type home plans are popular one story house plans on the East Coast and in the Northeast United States, although you may find some Cape Cod homes which have one and a half stories and are not true single story homes.
There are some Ranch and Rambler home styles seen in this area as well, but a majority of the one story homes in this part of the country are Cape Cod or one of the cottage home plans instead.
The one story home plans found in the Southwest USA can include a variety of styles and designs:

The number of retirees and elderly who move to this area of the USA is one reason that the single story home is so popular, and the energy efficiency that can be seen with many of these homes is another reason that they are so popular in the Southwest.
The West Coast does not feature one story house plans in the same number that some other areas of the country do, but these styles and designs can still be found without much effort. The large windows allow sunlight into the homes and can provide fabulous views.
With the earthquake concerns that this area of the country has a home which is low to the ground and only has one story can have advantages over many other types of p lans or designs. One story bungalows are popular, especially in areas along the coast, because of the high cost of land and small parcels available.
Energy Efficiency and Lower Energy Costs with One Story Home Plans
One reason why you may prefer to have a single story home is the energy efficiency that can be included, and this means significant savings on your energy bills and carbon footprint when done properly. Homes with more than one story have heating and cooling loss because of this. Hot air rises into the second floor, while cooler air will stay closer to the bottom floor of the home.
With a one story house this is not a factor, and less heating and cooling is required to keep your home comfortable. The decrease in energy use means less environmental damage and lower utility costs. You can save the environment and your money at the same time.
Some homeowners have taken energy efficiency even farther with one story home plans, and installed solar panels or other alternative energy equipment to help supply the energy needs of the home. It may be easier to make your home completely self sufficient or much more energy efficient if it only contains one story. The larger area of the roof and structure allows more solar energy to be captured.
Key Elements
Good Features of One Story Home Plans
The single story design is easier to navigate
Vaulted ceilings
Eaves which are usually deep set
Low to the ground
Can include sliding glass doors
Usually includes an attached garage
Large windows
Lower maintenance and upkeep costs in most cases
Ideal for anyone who is disabled or elderly
Very popular, especially in the Midwest
Floor plans for these homes are usually very simple
Interior walls are kept to a minimum, providing an open feel
Available space is used efficiently
Decorative shutters
Natural materials are commonly used
Many different styles to choose from
Can be found in a wide range of sizes
May include an attic
Ideal for almost any family size
May work well with alternative energy equipment and systems
Most popular design on the market currently
Usually includes a foundation
Bad Features of One Story Home Plans
A limited expansion ability
Often requires a larger parcel of land
Can be more expensive per square foot to build
A lack of decorative detail
Are usually long and narrow
You Might Also Like: