All About Two Story Home Plans!
Two story home plans are extremely popular for many different reasons. Some areas of the United States have a majority of two story homes, while other areas seem to have more homes that are a single level. Two story house plans consist of two separate floors, and this offers many benefits that a lot of home buyers find attractive.
There is a large variety of styles and designs to choose from for this type of home, so finding one that appeals is not a problem for any tastes or budget. In addition to all of the benefits there are also some special considerations that should be evaluated, because of the addition of the second floor on the home.
Two story home plans can be small, large, very plain, or ornate and extremely complex. It's usually not hard to find this type of home in any area of the country or in almost any price range if you are willing to spend a little time and effort in your search.
The additional floor offers more room for living and storage, but these homes may also require more maintenance and repair, and may have higher upkeep costs in some cases than a single story dwelling.
Energy efficiency can also play a role, because homes that have two floors may offer higher energy efficiency because more of the heating and cooling energy is captured and contained in the home.
Typical Owners of Two Story Homes
The typical owners of two story homes can vary greatly. If you're single you may choose this type of home in the expectation of needing more room for a spouse and family later in life.
Starting out with a two story model means you will not have to move in the future if you have children, and will still have plenty of room. Married couples and those with children also usually prefer a two story model, because of the additional space these homes provide.
Individuals who are elderly may choose one of these homes in a model and style that features the master bedroom and bath on the first floor, so that it is not necessary to climb stairs every day.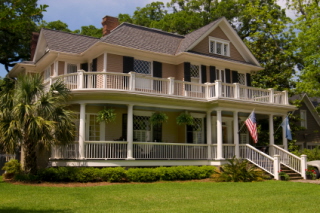 Two story house plans can be perfect for almost any style or design preference, family size, and living situation. Whether your family includes only one member or ten, these homes can give you plenty of room by maximizing the land size that you have.
Even smaller lots can be the location for a roomy and spacious home, because a two story model builds up instead of out.
Individuals who want to leave a smaller environmental footprint without sacrificing space or comfort will generally choose a home that has more than one floor. The private bedrooms are usually kept apart from the common areas, often on the different floors, so the privacy factor is also attractive for many homeowners.
The Popularity of Two Story Home Plans on the East Coast
Along the East Coast of the United States two story home plans are incredibly popular; more so than in any other area of the USA, and most of the homes in this region are two story homes. There are several factors responsible for this. The temperatures along the East Coast are usually much colder during the winter months, with heavy snowfalls and bitter temperatures that can drop below zero.
A home that offers a second story usually has a sloping roof, which helps eliminate any snow built up and prevent damage to the structure. This type of home is better suited to the climate and weather conditions in this area, and is the reason that most of the homes on the East Coast feature a two story design.
The improved energy efficiency of two story homes is another reason why they are so popular along the East Coast. Heat rises, meaning that it costs far less per floor to heat a two story residence than it does a one story home. The heat from the first floor rises up to the second floor and is captured there, so it costs less to keep these homes warm per square foot in colder months.
In many warmer parts of the country the upper floor can become unbearable in the hottest months of the year unless you are willing to pay much higher cooling bills. In these parts of the country it's usually a better option to choose a one story structure with a full finished basement, because this adds another floor which stays cooler in the heat.
Another reason why two story home plans are more prevalent on the East Coast is because this is the way homes have been built for many hundreds of years. The first homes built by settlers usually included two levels.
It was not until the mid 1800s that the first two story residence was built in California, and this home was constructed by a wealthy landowner named Thomas Whaley who wanted his East Coast bride to feel at home. Homes on the East Coast have traditionally been built with two floors, and often a full basement.
The Flexibility and Appeal of Two Story Home Plans
One of the biggest reasons that two story homes are so popular is that these structures can offer an amazing variety of looks and styles. These houses are extremely flexible, and can fit many different purposes and living arrangements. While this type of home will frequently place the bedrooms on the second floor and the common and living areas on the first floor, this is not always the case.
This type of home can be small, and only include one or two bedrooms and a single bath, or you can choose a large and extravagant style that offers many bedrooms and bathrooms.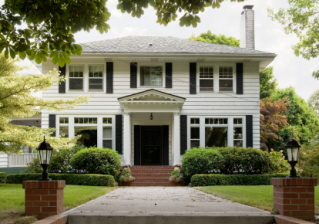 There are so many styles and designs to choose from with two story home plans that it's impossible not to find one you will fall in love with. Many of these homes feature large windows that are oversized with spacious rooms. Almost every design and architectural style can be included in these home plans, and only a small number of styles and designs will not work with a home that has two levels.
You will find small and simple cottage style homes with little decoration, as well as Victorian and other elaborate and highly decorated styles. There are many types of room placement, window sizes and shapes, and even the addition of porches, garages, and other personalized touches that make each two story home different and unique.
Design and Architectural Styles Available with Two Story Home Plans
The huge variety of architectural styles and design plans that will work with two story homes is astonishing. Victorian home floor plans work well, and always include a second floor in the plan. French Country Home Plans are also an excellent choice if you want the benefits of a second floor. Colonial Home Floor Plans are another design choice if you are looking for a home with two levels, and this is true of modern home plans as well.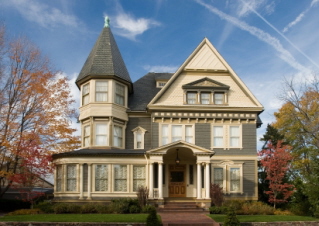 These are just a few of the styles you will find when you start searching for the perfect home. Most of the older architectural styles and many of the modern designs offer flexibility and can include a second floor.
Cape Cod is another style of home that works exceptionally well with two story home plans. Many of the styles listed were originally built along the East Coast when the first settlers arrived in America.
This is another reason why this region of the country is populated with homes that have more than one level. In the past larger families were considered necessary, and more room was needed for household help and others as well. The East Coast was the first area of the USA settled and these were the types of homes that were considered common and normally built at the time.
Newer homes along the East Coast also usually include two floors, partially so that the new homes fit in with the existing structures in the community but also because this type of home is still in high demand in this region. The demand for this type of home has spread, and it's possible to find one in almost any area of the country, but nowhere are these homes more prevalent than on the East Coast of the United States.
Possible Features with Two Story Home Plans
A home that has two stories can include almost any features you could possibly want. You can pick a home with a dining and living area which is formal, and that features cathedral or high ceilings. You can also choose less formal features, such as a breakfast nook or family entertainment room.
Many of these homes can include a garage, and a fireplace is a common feature in a lot of two story structures to help lower winter heating bills even more. A porch can be added in a number of designs, including a fully enclosed option or a wrap around style.
With two story home plans your choice of features available are almost limitless. There are very few styles or features which cannot be included in a two story design. The master bedroom and master bath can be arranged separately on the main floor, or all of the bedrooms can be grouped on the second floor together.
These homes can include any desired number of bedroom and bathroom spaces, and almost any configuration of rooms preferred. These homes can be elegant and stately or quaint and charming. The common living areas are easily accessible to guests, but the upper level offers a private space that can be private and used for family only.
Ornamentation and Decoration with Two Story Homes
Homes that offer two floors can be classic in a timeless way, but they can also feature a modern look with the use of different decorations and ornamentations. Colored exterior shutters are common on homes along the East Coast, and these shutters are part decoration but also provide a defense against winter storms in this coastal area.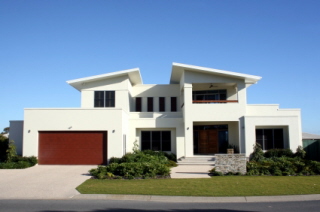 Brackets, moldings and other architectural pieces, dormers, and other frequent decorations can be combined for a unique appeal. Some modern two story plans may only include one or two ornamental touches, while others may be loaded with decorative touches and ornamental pieces.
An important fact to remember is that the more decorated, detailed, and ornamented a home is the higher the upkeep and repair costs may be.
Two story homes retain a classic feel even with modern touches and decorations, making them ideal for anyone who enjoys architectural styles from the past but wants a modern twist to bring the home into the twenty first century and keep the home from looking dated or old fashioned. No matter what design styles you enjoy you want a modern home, and this is easy to do when you choose a model with two levels that includes various ornamentation and decorations.
Key Elements
Positive Elements of Two Story Home Plans
Two levels
These plans are available in almost every size, shape, and budget
Ideal for individuals and families of any size
A roof that slopes sharply eliminates snow buildup by allowing the snow to slide off the roof easier
Windows which are large allow more sunlight into the home from all sides
More room for storage or other uses
Can include a garage
A classic look that never goes out of style
The bedrooms are usually grouped together on the second floor, offering more privacy
Can be more energy efficient
Costs less per square foot to heat or cool than single story homes
A lower overall construction cost than a single story home of the same footage
A smaller footprint
Many features can be included in these plans
Can be used with almost any design style
Living and common areas are usually located on the main floor
Can include almost any number of bedrooms and bathrooms
Fewer materials are usually needed for the foundation and roof
Negative Elements of Two Story Home Plans
These homes include stairs, which may not be ideal for someone with physical restrictions or disabilities
In certain warmer regions it may cost more to keep the second level cool in the summer months, and without air conditioning this floor can become unbearable
A single individual may find the cleaning and upkeep excessive for one person
You Might Also Like: